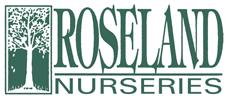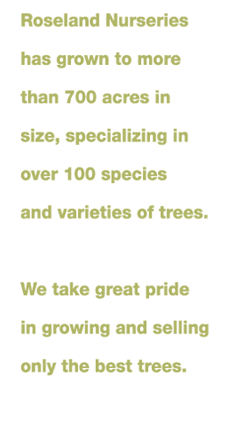 Click on any tree group to get more information.
ASH AU

umn Purple Ash "(Fraxinus am 'Au
ASH PA

more Ash "(Fraxinus Pennsylvania 'Pa
ASH URBANI

e Ash "(Fraxinus Pennsylvania 'Urbani
BEECH RIVERS PURPLE BEECH (FAGUS SYLVA

ica 'Riversii')
Rivers is deep purple in spring and purple bronze
BIRCH RIVER CLUMP BIRCH "(BE

ula nigra)
The bark exfolia
CHERRY KWANZAN CHERRY (PRUNUS SERRULA

a 'Kwanzan')
Kwanzan's large double pink flowers make i
Flowers very early, and');">
CHERRY OKAME CHERRY "(PRUNUS 'OKAME')
FLOWERS VERY EARLY, AND
Similar');">
CHERRY AKEBONO CHERRY "(PRUNUS X YEDOENSIS 'AKEBONO')
SIMILAR
CHERRY AU

umn Flowering Cherry (Prunus subhir
CHERRY SPIRE CHERRY (PRUNUS X HILLIERI 'SPIRE')
SPIRE IS NARROW AND UPRIGH

Branching fills in for a nice appearance in
A graceful, small');">
CHERRY YOSHINO CHERRY "(PRUNUS X YEDOENSIS)
A GRACEFUL, SMALL
Mos');">
CRABAPPLE DONALD WYMAN CRAB "(MALUS 'DONALD WYMAN')
MOS
Fine');">
CRABAPPLE GOLDEN RAINDROP CRAB "(MALUS 'GOLDEN RAINDROP')
FINE
Uprigh');">
CRABAPPLE PRAIRIEFIRE CRAB "(MALUS 'PRAIRIEFIRE')
UPRIGH
and reddish-purple leaves wi
Uprigh');">
CRABAPPLE PROFUSION CRAB "(MALUS 'PROFUSION')
UPRIGH
and purple-bronze foliage wi
Fas');">
CRABAPPLE ROBINSON CRAB "(MALUS 'ROBINSON')
FAS
CRAPE MYR

le Muskogee Crape Myr
le Na
le Sarah's Favori
CYPRESS LEYLAND CYPRESS (CUPRESSOCYPARIS LEYLANDII)
THESE

rees are used as windbreaks.They are fas
CYPRESS BALD CYPRESS (CUPRESSOCYPARIS
DAWN REDWOOD DAWN REDWOOD (ME
An unusual and beau');">
DOGWOOD JAPANESE KOUSA DOGWOOD "(CORNUS KOUSA CHINENSIS)
AN UNUSUAL AND BEAU
This Na');">
ELM VALLEY FORGE ELM "(ULMUS AMERICANA 'VALLEY FORGE')
THIS NA
ELM ACCOLADE ELM (ULMUS JAPONICA X WILSONIANA 'MOR

on')
Arching limbs and a graceful vase shape charac
Tall, uprigh');">
ELM ALLEE® ELM "(ULMUS PARVIFOLIA 'EMER II' P.P. NO. 7552)
TALL, UPRIGH
ELM DYNAS

y Elm (Ulmus parvifolia 'Dynas
In');">
ELM PIONEER ELM "(ULMUS 'PIONEER')
IN
GINKGO AU

umn Gold Ginkgo (Ginkgo biloba 'Au
GINKGO MAIDENHAIR TREE (GINKGO BILOBA MALE)
AN UPRIGH
The old s');">
HOLLIES AMERICAN HOLLY "(ILEX OPACA FEMALE)
THE OLD S
HOLLIES NELLIE S

evens Holly "(Ilex x 'Nellie R. S
HOLLIES DR. KASSAB HOLLY (ILEX X 'DR. KASSAB')
ANO

her broad-based pyramidal in shape wi
HOLLIES CEN

ennial Girl Holly "(Ilex x 'Cen
HONEYLOCUS

Skyline Honeylocus
Sunburs
HORNBEAM PYRAMIDAL EUROPEAN HORNBEAM (CARPINUS BE
Eas');">
HORNBEAM AMERICAN HORNBEAM SYN. BLUE BEECH "(CARPINUS CAROLINIANA)
EAS
LINDEN GREENSPIRE LINDEN "(TILIA CORDA
LINDEN GLENLEVEN LINDEN (TILIA CORDA

a 'Glenleven')
Glenleven is perhaps
LONDON PLANE LONDON PLANE
LONDON PLANE COLUMBIA PLANE
MAGNOLIAS DR. MERRILL (MAGNOLIA X LOEBNERI 'MERRILL'/'DR. MERRILL')
FLOWERS HEAVILY AND A
MAGNOLIAS JANE MAGNOLIA / ANNES MAGNOLIA (MAGNOLIA LILLIFLORA 'JANE'/'JANE MAGNOLIA')
FLOWERS IN APRIL. REDDISH BLOOM.
MAGNOLIAS SWEE

bay Magnolia (Magnolia virginiana glauca 'Swee
MAPLES CRIMSON KING MAPLE (ACER PLA

anoides 'Crimson King')
The mos
MAPLES ROYAL RED MAPLE "(ACER PLA
MAPLES EMERALD QUEEN MAPLE (ACER PLA

anoides 'Emerald Queen')
Emerald Queen is probably
MAPLES COMMEMORA

ion Sugar Maple (Acer saccharum 'Commemora
MAPLES GREEN MOUN

ain Sugar Maple (Acer saccharum 'Green Moun
Na');">
MAPLES RED MAPLE "(ACER RUBRUM)
NA
MAPLES ARMS

rong Maple "(Acer rubrum 'Arms
MAPLES AU

umn Blaze Maple "(Acer rubrum 'Au
umn Fan
MAPLES OC

ober Glory Maple (Acer rubrum 'Oc
MAPLES RED SUNSE

Maple "(Acer rubrum 'Red Sunse
OAKS WHI

e Oak "(Quercus alba)
One of
OAKS SWAMP WHI

e Oak "(Quercus bicolor)
Lus
OAKS SCARLE

Oak (Quercus coccinea)
The habi
OAKS SHINGLE OAK (QUERCUS IMBRICARIA)
I

s foliage is dark green and glossy. Leaves
OAKS OVERCUP OAK (QUERCUS LYRA
OAKS BUR OAK (QUERCUS MACROCARPA)
A VERY
OAKS PIN OAK "(QUERCUS PALUS

ris)
Branches are long, slender and horizon
OAKS WILLOW OAK (QUERCUS PHELLOS)
LONG SLENDER BRANCHES GIVE
OAKS HIGH

ower Oak (Quercus phellos)
A cul
The Red Oak is a large, fas');">
OAKS RED OAK "(QUERCUS RUBRA BOREALIS)
THE RED OAK IS A LARGE, FAS
An excellen');">
OAKS SHUMARD OAK "(QUERCUS SHUMARDII)
AN EXCELLEN
PEARS CHAN

icleer Pear "(Pryrus calleryana 'Chan
PLUMS KRAU

er Vesuvius Plum "(Prunus ceraifera 'Krau
PLUMS THUNDERCLOUD PLUM (PRUNUS CERAIFERA 'THUNDERCLOUD')
RE
REDBUD EAS

ern Redbud (Cercis Canadensis)
The profuse flowers
REDBUD FORES

Pansy Redbud (Cercis Canadensis 'Fores
SERVICEBERRY AU

umn Brilliance Serviceberry "(Amelanchier 'Au
Small');">
SERVICEBERRY ALLEGHENY SERVICEBERRY "(AMELANCHIER 'LAEVIS')
SMALL
SERVICEBERRY COLE'S SELEC

Serviceberry "(Amelanchier x grandiflora 'Cole's Selec
S

yrax Japanese Snowbell "(S
SYRINGA IVORY SILK JAPANESE TREE LILAC "(SYRINGA RE
SWEE

Gum Cherokee Swee
Gum Moraine Swee
TULIP TREE TULIP TREE "(LIRODENDRON
TUPELO BLACK TUPELO "(NYSSA SYLVA

ica 'Black Tupelo')
Rich green glossy foliage igni
WILLOWS GOLDEN WEEPING WILLOW (SALIX ALBA 'TRIS
Selec');">
WILLOWS PRAIRIE CASCADE WEEPING WILLOW "(SALIX 'PRAIRIE CASCADE')
SELEC
ZELKOVA GREEN VASE ZELKOVA "(ZELKOVA SERRA

a 'Green Vase')
A vigorous zelkova selec
ZELKOVA MUSASHINO COLUMAR ZELKOVA "(ZELKOVA SERRA

a 'Musashino')
Ideal for narrow s
ZELKOVA WIRELESS ZELKOVA "(ZELKOVA SERRA
ZELKOVA VILLAGE GREEN ZELKOVA (ZELKOVA SERRA